Batkid saves Gotham and steals our hearts on social media
It's a crisp Friday morning, and Gotham City is under attack by The Penguin, who has abducted our beloved city mascot Lou Seal, and The Riddler, who has taken possession of a downtown bank vault.  Fear is gripping the city with no one to turn to except for a single brave superhero – an adorable five-year-old boy in remission from leukemia named Miles. The illness has been present in his life since he was 20 months old and when the time came to make a wish for the Make-A-Wish Foundation, he wished for nothing other than being "Batkid."
Reach for the nearest Kleenex box and read on.
San Francisco has been transformed into Batman's hometown today, including a carefully planned adventure where Batkid rescues a damsel in distress from a cable car in Union Square, enjoys a burger with Batman at Burger Bar, stops The Riddler from hijacking a bank vault and rescues Lou Seal from AT&T Park. The adventure will end with Batkid receiving a key to San Francisco from Mayor Ed Lee and Police Chief Greg Suhr. More than 12,000 volunteers have been helping to ensure the event runs smoothly. With supporters flocking to the Bay Area and taking to social media to spread the word, this has been the most viral Make-A-Wish event to date.
It's hard not to admire the endearing qualities of Miles' wish and the community support that follows, but what exactly made this event so buzzworthy and such a huge success?
Emotional Connection
Just about everyone, save for maybe the Grinch, who knew the details of Miles' illness wanted to see his wish fulfilled. His story was more than enough to capture the hearts of San Francisco and beyond.
Simplicity
Prior to Batkid taking back Gotham City, Make-A-Wish asked Twitter-users to use #SFbatkid to show their support for his bravery and help spread the word – the results were genuine heart-felt tweets. Even President Barack Obama had to comment on the action.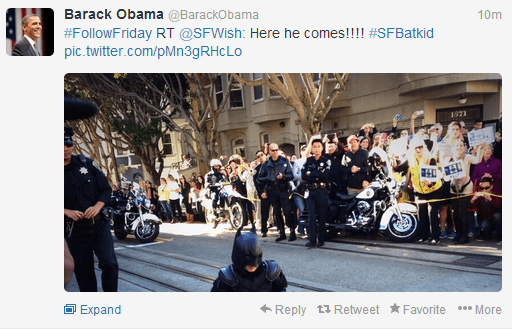 Facebook was another method of becoming connected to the event. Supporters posted on the Batkid Facebook page (Batkid Photo Project) with pictures and signs, making it easily assessable for all.
The San Francisco Chronicle created its own custom "Gotham City Chronicle," (see below) issuing 1,000 copies with headlines, "Batkid Saves City," "Caped crusader crushes crime" and "Batkid's secret revealed at last."
Community Support Turns Global
Residents of the Bay Area and throughout the country made the journey to the various event locations to be a part of Miles' wish and the event made it possible for these strangers to come together. Supporters from outside of the country showed their love for Batkid on social media channels and the return was an unforgettable experience that became headline news.
Stay tuned, Gotham. Batkid is saving the day, and we are all proud to play our small part in seeing his wish come true.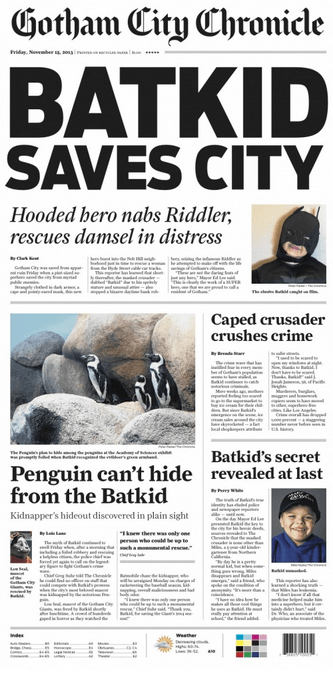 JP Morgan Pulls the Plug on Campaign After Hashtag Hijack
We all know social media is a powerful tool companies use to engage consumers, but each campaign has the potential to do more harm than good. JP Morgan is the latest victim of a "Twitter hijack" after the company attempted to host a hashtag-driven conversation on the social media platform.
Wall Street Journal, Los Angeles Times, Bloomberg and many others have already reported on JP Morgan's effort that went awry after a failed attempt to positively engage consumers with an interactive question and answer session on Twitter. The company tweeted several posts promoting the live Q&A that was set to take place today, encouraging users to ask a leading JP Morgan executive questions about career advice using the hashtag #AskJPM.
Today, we should be getting golden advice from this banking giant, but it is hush-hush. Why?
#cancelled
Users took the company's offering as an opportunity to criticize JP Morgan and turn the big idea south. The hashtag was quickly hijacked and rather than career advice questions, negative posts ensued. A similar situation occurred early last year when McDonalds encouraged users to use #McDStories along with heartwarming/feel-good stories about the brand. The result was tweets from activists and others about how McDonalds' food causes food poisoning. These situations show that although a company's intentions are good, activists will jump at the chance to tell a company how they really feel.
When JP Morgan realized its idea wouldn't create positive engagement and cancelled the Q&A, company spokesperson Brian Marchiony said, "Bad idea! Back to the drawing board."
It's unclear what was discussed behind closed doors to cause the company to pull the plug or engage in the Q&A in the first place, which is now a matter of debate in the PR world. Perhaps "warm and fuzzy" was just too out of character to be accepted at face value. What could they have done to make it better?
The company could have sifted through the snarky posts to at least address the (few) posts that actually posed legit questions to show consumers they are open to feedback and want to provide meaningful assistance. However, JP Morgan disengaged in the process by cancelling. With a little more planning and honest assessment of the potential environment, JP Morgan could have found a way to turn lemons into lemonade. Moving forward, JP Morgan can work to limit the fallout by not giving up so easily. There were, in fact, those who genuinely took them at their word.
Linda, for one, is still waiting for some words of wisdom:

A Brand (PR) Apart
So many public relations agencies and other marketing-related groups emphasize their prowess in helping clients build their brands, Fineman PR among them with its time-tested "Brand PR" approach.
I wonder, however, how effective are PR agencies at promoting their own brands? What defines and differentiates them in a meaningful way? What helps prospective audiences understand the promise public relations firms are making and, ultimately, why should their audiences care?
That was a hot topic around here this past week when a longtime client called us "Best-In-Class." Thought-provoking to say the least, so we asked ourselves: What are the ramifications of being Best In Class? How can we bottle it and promote it as the definition of Fineman PR?  How can we communicate that to our potential customer base? How do we make that part of our brand messaging?
In reviewing the reasons for why we believe it is true (and being sure we are not just drinking the "Kool Aid"), we agreed that our 25 years of staying power was, at least, part of the answer. Certainly, our well documented success with high profile crises is a factor as well as our numerous launches of diverse premium products and, even, whole categories of products. Yes, we've earned an excellent reputation over the years. But, is that what constitutes a brand? Is that what our client meant? I say no to both.
A brand is more than a reputation, and our client was not complimenting us on our history.  So, how then, do we tangibly define our brand four client said stands for excellence?  Well, a brand must be more than a platitude; it must be dynamic with a suggestive quality attached that leaves both a visual impression in the brain and an emotional connection in the heart or nerve endings. In public relations terms, what's the story or continuing legacy that's going to continue reinforcing that impression or thought on hearts and minds?  More to come below about what we decided, but, first …
I surveyed the websites for a view of how other agencies branded their perceived attributes, and, as you will note, some are better or clearer than others:
"The Power of True" encapsulates what one group says it stands for, whether it's about ethics, the conversations the agency promotes, vision behind its programs or the agency's creativity. At the very least, it's aspirational.
Another group promotes that it is all about strategy, message architecture, creative, connections and acting as a catalyst.
"We motivate people to change deeply ingrained behavior," states another.  "We make them believe."
At another site, "gold standard performance; ideas driven, results oriented, evidence based."
Breaking through to relevance, to initiating buzz and conversation, building communities and engaging stakeholders, claims another.
"The wisdom business."
"Public Relations is a mindset more than a set of tactics and tools."  This definition of the profession for which one group stands is one of the better ones in my opinion; substantive, insightful.
So where does that leave Fineman PR?
My view … a white shirt; simple and clean and with substance. A principled, unfettered, fresh approach, flexible with changing times and circumstances. Nimble, business-like guardians of client brands, moderate – not radical, not reactionary – ethical, high energy, unafraid to make a clear statement or provide clear counsel, buttoned-up when necessary, focused, responsive, always appropriate and ready to go.
With a substantive approach, the client gets his value. Her brand appears heroic at every turn based on a strong foundation of right decisions, ethics and an understanding of the audience mindset. To cite just a few examples: client campaigns endorsed by brand name in an L.A. Times editorial; client stories accorded front page/homepage feature coverage in the San Francisco Chronicle and USA Today; clients helped by counsel that stops labor actions in their tracks with solid, out-in-front, transparent communications; and clients boosted by substantive advocacy that keeps major print media from publishing inaccurate and unfair activist charges.
For our own brand cause? With thought leadership that helps educate the marketplace about the value of effective communications: articulating the Brand PR difference for communicators; the widespread publication of our popular, annual list of public relations blunders, i.e., what good PR is not; by being called out by Time Magazine as publishing one of the best end-of-year lists, ranking even above the New York Times and NASCAR lists.
In summary, after peering through the looking glass, we project the Fineman PR brand and its "white shirt" approach as artisanal. It is hand crafted, not mass produced; it is defined and meaningful. It is a thoughtful undertaking of fulfilling our clients' best interests, experiences, attributes and satisfaction time after time. It is Best In Class.
Brand PR roadshow. What's the impact for brands when a PR agency steps behind the wheel?
The roadshow (or whistle-stop tour) is a tried and true tactic for Brand PR.
Following in the footsteps of Ringling Bros. and Barnum & Bailey, brands have been taking it to the streets for years to generate awareness. However, with a change in media consumption, one can no longer expect camera crews to wait in earnest for the next pit stop, but social media, in the form of Twitter, Facebook and Instagram, tells a real-time story to followers. It's certainly still buzzworthy.
What's new to this formula is a public relations agency behind the wheel. A New York public relations agency recently gathered up all their clients, tricked out an RV and took off for the Wild Wild West, as featured in the New York Times.
From a public relations agency perspective, I respect the ingenuity of the firm and their dedication to putting themselves in the hot seat in the name of their clients. And really, what better way to address symbolic leadership than employing senior executives to drive the bus?
From a client perspective, I have to wonder if each client feels they are getting the same love and attention. Is the paint on the walls just an added aesthetic, or do viewers really feel the brand promise? What makes the cabinet knobs stand out from the kitchen faucets? Are the brands symbiotic? Do they regularly target the same consumer?
We, as publicists, highlight our clients' products or offerings for their own brand attributes and unique propositions. Traditionally, though, and for good reason, our job is to stand away from the spotlight to let our clients shine. #PRRV is a great stunt to bring visibility to the agency – a one-stop, home goods public relation shop – but misses the mark on highlighting the individuality of the included brands.
For more information on Brand PR, contact Fineman PR at 415.392.1000 or follow us on Twitter @finemanpr
Hungry Eyes: Using Social Media Monitoring for Crisis PR, Brand PR and Corporate Communications Strategies
It's no secret that stupid and illegal social media activity can cost people their jobs. (The latest they-did-what?! examples feature an automobile repair shop employee using Twitter to find a pot dealer and a daycare employee ridiculing toddlers via Instagram … both were fired.) But what these examples and more show us is that more companies (and their PR partners) could be using social media not just for engagement with key audiences, but more importantly as a defensive tactic to protect their brand and identify potential threats– and — as an offensive tactic to assess trends and pounce on strategic opportunities. Tuned in organizations realize that social media provides a world of opportunity for improving their business and fine tuning critical customer service, employee relations and operations one tweet or snap at a time.
Sure, having a media monitoring service in place for capturing print and online placements, broadcast segments and general mentions is crucial. But a traditional monitoring service alone (sure add Google Alerts in there to spice things up) only goes so far. You may miss conversations or shares on Instagram, Twitter and Facebook and other sites rich with everyday conversation, highly shareable visuals and personal revelations that could impact your brand. This standard approach is valuable, but doesn't take advantage of the insights a more robust monitoring system can provide.
Here are a few examples of how vigilant monitoring can feed your communications:
Facing a product PR crisis?
The outcome is not entirely unpredictable. What if you could pull timeline information and engagement stats from your monitoring plan several months back when you were observing a competitor in a similar tangle? Use those learnings to craft your own strategy and map out a plan of action. Rely on the compared stats to predict outcomes and anticipate challenges. Develop a plan that will allow you to monitor relevant information over time with a system that allows for auditing of past events. (Hint: backtracking to audit an event months after the fact is insanity-inducing and costly unless you have already been tracking an issue in real time. Identify trends and issues your team should monitor continuously in real time to build your research repertoire.) See more about how Fineman PR takes this further for clients with our custom Crisis Predictive Tool.
Never underestimate a manual search: Be creative with your search terms (product names, company names, facility names) and see what comes up. Most days the results may be tame. But on the day you pull up an Etsy link for handcrafted undergarments crafted from your company's logo t-shirt (true story), or Facebook photos of build-your-own furniture out of your product's packaging, or an Instagram video of a company driver hurling obscenities while transporting your product on the clock, you'll be grateful for the opportunity to engage and react appropriately in the interest of appreciation or safety depending on the situation.
Don't just watch, take action: Track public conversations about your brand and go a step further by categorizing these fans geographically. Make a note of their profile and location for future targeted outreach and engagement opportunities in the future. Similarly, note dissatisfaction or opportunities for improvement. Keep a log of potential customer and consumer feedback for planning considerations or messaging nuances.
Don't just read an article, digest it: Even with a traditional monitoring service, there is more that can be done to up the value of results. What are influencers writing about? What angles have been covered that you should avoid? Which articles involving your industry or product are getting the highest visibility and readership? Which visuals are going viral? What terms are resonating with media? What do the comments reveal about the issue or consumers' perceptions of the topic? Digesting and learning from news coverage provides you the knowledge you need to provide critical context to clients, adjust messaging, and focus your next story angle.
Read Between The Lines. Fineman PR has developed its own Crisis Predictive Tool to anticipate the lifespan of a potential crisis.
 PR Measurement Smorgasbord
Let's say you are representing a fashion retail brand. Conducting a few random internet searches or scanning Google Alerts isn't going to give you, or your client, a comprehensive picture of your brand's online presence or the conversation happening about them or the industry. (Nor will it likely bring up photos of your products!) There are dozens of programs PR and marketing professionals can use as a means of monitoring issues and measuring impact. Below are some of the outlets we depend on every day to refine our monitoring for clients and to ensure we have the bases covered:
• Hootsuite – This informative and efficient dashboard allowing you to simultaneously manage your various networks across multiple social media platforms
• Topsy – Do you want to know how many times an online article was retweeted? Simply plug in the URL to this site
• Statigram – Instagram has been a booming outlet for consumers to express themselves. Statigram allows you to gather information on the conversations happening on Instagram
• Compete, Quantcast – Use these programs to get information on web traffic for certain sites including unique visitor count, site ranking and how the site traffic compares to competitor sites
For our PR team at Fineman PR, a truly robust monitoring system uses real eyes to assess trends, continuously tracks and notes industry trends and competitor developments, identifies real time conversations by consumers and employees, and uses that information to improve communications. No doubt, building a custom plan will take time and manpower, but the final system will contribute to invaluable insights that will help steer and satisfy your organization's communications strategy for years to come.
To learn more about Brand PR, Crisis PR, our social media program and Crisis Predictive Tool, contact Fineman PR at 415.392.1000
Wine PR insights from our resident wine expert
Brand building and brand loyalty are challenges most businesses face and this is especially true in the wine industry. Our friends at Great Wine News recently explored the biggest challenges facing wine brands in the U.S., and included insights from our resident wine expert, Toby Baird, on the inside scoop… er, pour. His take – brand building and maintaining brand loyalty are more challenging than ever in today's uber competitive wine market, especially for those brands in the "everyday" price point found in most supermarkets and large beverage retailers. By the way, did you know Fineman PR coined the term Brand PR in 1995 to help consumer brands break through the noise of cluttered consumer markets?
Getting Branded
Great Wine News
8/16/2013
We asked, "What is the biggest challenge in the wine industry in the U.S. is at this time?" Toby Baird, Group Supervisor at Fineman PR gave us his insight.
"Building and maintaining brand loyalty is one of the key business challenges facing wine brands today. Not so much the wines at the very bottom of the price scale, nor those on top, but the "everyday" brands competing on supermarket shelves from about mid-thigh height to eye level or so, wine priced from about $8 to $15, or premium to super-premium wines."
Read more here.
For more information on Brand PR and Wine PR, contact Fineman PR at 415.392.1000 or follow us on Twitter @finemanpr
Why Media Training Matters for Even the Most Seasoned Executive
For senior-level professionals tasked with the important role of company spokesperson, your job just got harder. The media landscape is constantly evolving to focus more intensely on digital and sharable content. Print outlets routinely incorporate video on their websites and social media channels. YouTube has competition from Vine and now Instagram, increasing the prominence of mobile video uploads and sharing capabilities.
Digital footage secured through broadcast interviews or even a chance recording from a passive bystander can live online forever. For this reason, media training is an important tool to ensure you present your best self with prepared and practiced messages in order to maintain your approved public image.
You may have mastered the art of board presentations and can already deliver a stirring elevator speech in your sleep, but how you present your message in front of the camera is the true test. When the little red light is flashing, how do you measure up?
At Fineman PR, we regularly conduct media training for both our Brand PR and Crisis PR clients to help strengthen spokesperson performance, rehearse responses to tough questions and prepare for the unexpected. We provide a safe playground for clients to experiment with new messaging and delivery. Through repetition and analysis of on-camera performance, a good spokesperson can become great.
We look for confidence – a trait that matures with practice. How you deliver your message is as important as what you are saying. Below are key takeaways to ensure a memorable, effective presentation before you say a word.
In 5, 4, 3, 2, 1:
Food and Drink:

Drink water before the interview to prevent your mouth from becoming dry. Stay away from carbonated beverages
Eat! Do not give an interview on an empty stomach. Avoid salty foods; they will make you thirsty.
Caffeinate, but with caution. Early calls for morning show interviews and green room buffets may tempt you to down more coffee than you usually would. Caffeine-induced jitters can easily be misread as anxiety or discomfort.

 
What Not to Wear:

Viewers should focus on what you have to say, not your appearance (unless of course, your appearance is the message). Avoid jarring patterns, flashy jewelry or loud clothing that will distract from your message. That arm party on your wrist is amazing, but will create too much noise when you shake hands with your interviewer.
Be careful with the colors you wear. Too much black can be viewed as harsh. White will not appear "crisp" on camera. Wear white only if you are a doctor … or play one on TV.
Avoid stripes, herringbone, and small intricate designs or patterns. Conservative dress and solids work well, especially pastels. Shelve your seersucker blazer for casual Fridays and keep the leopard print locked up.
Powder makeup (in the same shade as your skin) will mask oil and sweat. Fun fact: powder and even antiperspirant can be used on a receding forehead to avoid glare. Ladies, do not wear lip-gloss or shiny makeup. Matte is always in fashion for broadcast, regardless of season.
Make sure your earpiece fits properly before the interview begins. Tuck in your shirt and adjust your collar as needed after any microphone or earpiece adjustments.
Lights, Camera, Action:
Tone:

Be confident. You are an authority on your topic. Own the message.
Project yourself more energetically; normal conversation can appear weak, flat or monotone, making you sound insincere or uninterested.

 

Body Language:

Maintain good eye contact with the reporter/interviewer; do not look at the camera or the monitor. If you need to look away for a moment, look down, never up at the ceiling.
If appropriate for your message, smile gently while on camera; you will look confident, relaxed and pleasant.
Let your arms hang; gesture naturally. Do not slouch or make distracting movements, e.g., rubbing your eyes, touching your hair, etc. Don't cross your arms or put them behind your back or in your pockets. Keep your hands in your lap without clasping them.
If you are sitting, lean just slightly toward your interviewer; communicate that you are engaged, positive, confident, open and warm. This can also help you appear slender and project a stronger jaw line.
If sitting, you may cross one leg over the other, but do not rest your ankle on your knee.
When the interview is over, sit still until the producer or host tells you that you are finished and may remove your microphone. Hold all chit chat until your microphone is removed and you are off the studio floor.
Pandora's box May Be Open For Spotify
Nearly all of us here at the office listen to music on Spotify throughout the day. A few of us are premium members, and those who aren't, likely will be. It's only a matter of time before we all cave so we can freely click and play all the tracks we like when listening to the radio feature. Given its popularity here in the office, we are all discussing the recent spat between Spotify and some influential musicians.
On July 14, musicians of Radiohead fame Nigel Godrich and Thom Yorke removed their collaborative side project, Atoms for Peace, from Spotify's catalog, citing inadequate compensation for new artists. Godrich summed up his views by saying:
"The reason is that new artists get paid f– all with this model. It's an equation that just doesn't work… If you have a massive catalogue – a major label for example then you're quids in. It's money for old rope. But making new recorded music needs funding. Some records can be made in a laptop, but some need musicians and skilled technicians. These things cost money."
Spotify, the digital music service which currently boasts 24 million active users and 6 million paid subscribers worldwide, responded by saying that they are on track to pay out nearly $1 billion to rights holders by the end of 2013 and have already paid out $500 million. Godrich responded by making the clear distinction between "rights holders" and artists. After all, it's safe to assume that a very small percentage of that $500 million paid to "rights holders" ultimately trickled down to the actual artist. Also in its statement, Spotify claims to be "100% committed to making Spotify the most artist-friendly music service possible, and are constantly talking to artists and managers about how Spotify can help build their careers."
This may not seem like a traditional "PR crisis" right now, as some music industry observers are already asserting. But, if left unchecked, it could be a big one for Spotify. In this case, criticism from highly influential musicians (e.g. Yorke and Goodrich) who represent a portion of Spotify's core community (artists themselves), have effectively opened Pandora's box on a system of inequity that some are already beginning to echo (competitive music streaming service pun unintended).
Arguably, choosing to embark on a new model for music rights, royalties and publishing in an ever-changing industry leaves Spotify's enterprise vulnerable to criticism.  Much like the digital impact on the news and publishing world, the music industry has completely changed in all facets over the last decade. With the decline of record labels and radio, and without a universally accepted model for compensation in the internet age, newer artists are left with a meager bargaining chip: greater awareness and marketing options vs. adequate compensation for creative authorship. There is clearly no grand scheme from Spotify to take money away from artists themselves – and some, even Radiohead's own manager – have come to Spotify's defense as an important tool to engage fans. But the conversation has now begun, and the jury is out on whether it has potential to escalate.
So what should Spotify do? Success breeds power and the responsibility for effectively shaping the future of an entire industry. From a PR and Community Relations perspective, no major company can afford to be perceived as "the bad guy" by its core influence base. Spotify may be currently exploring ways of fairly compensating artists, but in an age where social communities rise in an instant, it remains essential to the company's mission to not only keep artists informed as much as possible along the way but to actually involve them in a collaborative program for input and discussion. There is no "right way" to do it, but there could be a wrong one. Allowing Spotify users to directly contribute to small artists' projects is one idea (crowdsourcing), but more needs to be done if Spotify wants to maintain its brand promise to all audiences.
All artists at some point struggled to achieve success, and it may be only a matter of time before other major pop influencers, like Jay Z or Lady Gaga, for example, side with the little guy and demand that a fair compensation structure be implemented. We all here really like Spotify…in fact, we adore it.  Like that eager little girl in those AT&T commercials, we're addicted to its instant gratification:  "We want more, we want more!"  Most users want more music to be added to its catalog, but this won't be possible, and users may look elsewhere, if Spotify is suddenly vilified.
Clearly communicating how Spotify intends to continue to help smaller artists will help create goodwill with the music community, a fundamental audience that will allow the company to continue to grow its catalog for listeners while maintaining a copacetic culture. But for now, some artists are only seeing the downside. As reported by The Irish Independent, "80s trio Galaxie 500 explained that, at present royalty rates, their single 'Tugboat' would have to receive 47,680 plays to earn them the equivalent of just one album sale."
Clearly, something needs to change here.
Update: Since we first drafted this piece, more artists have joined Atoms For Peace in their boycott. Spotify, caught off guard by the momentum, has responded with "no comment."  There are two sides to every story, and Spotify needs help telling theirs. What do you think the service should do?
Read more:
Indie Labels Would Support Spotify Boycott By Their Artists via Huffington Post Tech
How Spotify Became The McDonalds of the Music Industry via Flavorwire
Spotify vs. Musicians: 10 Things To Read to Better Understand The Debate via The Guardian
#Content is King, and so is brevity. Can you define #PR in 140 characters?
A few members of our team took a crack at it. How would you define PR in 140 characters or less? Tweet at us, @FinemanPR, and let us know!
Strategic communications connecting organizations to their key audiences
Creating and managing goodwill for an organization's products, services and/or values with ppl who can affect its present and future welfare
#PR Getting your message across so effectively that your audience tells your story for you
#PR: Strategic communications that build relationships between an organization and its key audiences
Creating and maintaining relationships with key audiences through a variety of communications channels
The methods and activities to establish and retain the favor of an organization's stakeholders.
#PR is engaging in creative, timely storytelling and a two-way conversation with audiences to reach organization objectives
Not spin. Not puff. Credible, strategic communications connecting organizations with their audiences with the power to effect change
Brand PR communicates the brand promise and creates such a value message for consumers that mitigating factors lose relevance.
Crisis Planning for the Business of Summer Excursions and Group Travel
Ah, summer … time for vacation, camps, road trips and adventure in the great outdoors. For those organizations managing summer fun – summer camps, wilderness and other outdoor schools, sponsored retreats and bus tours – the guest experience is paramount. With adventure and nature, however, accidents and unintended consequences can happen.
Undoubtedly, these organizations have operational plans in place for emergencies, i.e., who and when to notify, jurisdictional authorities to keep on speed dial, staff members to deploy, area hospitals and medical specialists to identify, insurance companies to engage, and communications vehicles to consider such as news media and websites.
Yet, in the heat of a crisis, with emotions overwhelming on every side and when safety and emergency responses takes priority, it is easy to overlook critical communications elements. For that reason, my agency developed a categorized checklist of action items and reminders for these kinds of situations. It is by no means 100 percent comprehensive, but I would like it to be, so if you have any other suggestions that I should include, please feel free to let me know (mfineman[at]finemanpr.com).
Mindset/Tone
First and foremost, demonstrate care and concern for all those involved in the crisis, be they clients, family members of participants, guests or staff.
Prioritize medical attention, rescue efforts and immediate care of those affected; this is your organization's primary responsibility.
Stay focused on the facts that are known. Do not assign blame; do not speculate.
Communications must be a mix – a delicate balance – of facts to be conveyed, expressions of concern and a tone of humility.
In a tragedy, particularly in the first day or two of communications, it is critically important that your top executive speak for your company, both for the sake of your organization's credibility and to demonstrate the seriousness of which you are taking the situation.
Pay mind to the elements of people's privacy.
Continue to assure all audiences that you will provide timely updates and be a credible, caring source of information.
Remember that certain information must be communicated first to families before they become public.
The Approach/Do This
Focus on message development for all audiences. In addition to the facts, determine what you want your audiences to know about how you are managing the situation; they will need the assurance and confidence that you are taking all the appropriate measures – and then some.
Prioritize a list of all key audiences (authorities and medical personnel, involved participants, participant families, media and area community, other related clients, your investors, other stakeholders, etc.).
Continue to gather and confirm the facts.
Cooperate fully and work closely with first responders and jurisdictional authorities. Let official reports come directly from these experts. The investigation is critical and cannot be compromised or co-opted. Be sure you have an understanding of what facts can be released and what facts cannot (or should not) be released by you.
Always be prepared with easy access to a current copy of your safety record.
Similarly, have on hand a copy of the practices and procedures involved in preparing for the affected venture, including documentation of training for supervisors and those charged with the direct care of participants.
Continue to communicate the welfare of those who were involved and how they are being cared for.
Refer legal questions to authorities and/or legal counsel; refer detailed medical questions to health care providers.
Requests from the media may include interviews with some of those involved. If these inquiries are outside the pale, politely decline given the circumstances.
It is often helpful to seek the counsel of a professional who can understand the lay of the land objectively and who has helped others in the same kind of situation.
Determine where donations should be sent and communicate that to the public. Information about memorials must be communicated in a timely fashion.
Document everything.
Social Media
People are increasingly turning to Twitter and Facebook for breaking news. In a crisis situation, groups need to establish their digital and social media channels as the primary source for updated information before audiences turn to third-party sources that might fuel speculation or spread misinformation.
Swiftly correct misinformation and direct your audience to approved communications sites/pages.
Social media can also be used to address frequently asked questions and alleviate the burden of responding to a potentially large volume of inquiries. Social media should also be monitored to gauge audience sentiment and determine the effectiveness of the response strategy.
For travel companies with international destinations, especially those with trips in remote backcountry locations with limited means of communication, social media can serve as a crucial platform for relaying real-time news and updates.
Moving Your Business Forward
Save discussions of how the situation is affecting the business for later, not in the immediate days after the incident.
Keep a segment of your business focused on the continuity of the business and on the good work in which you are involved or providing.
Learn from every experience. Use the opportunity to update training and preparation materials for staff and participants, update equipment/gear as needed, and improve your operations and communications to ensure your organization is continuously improving based on its longstanding commitment to safety.
Two Tongs Make a Right! Tips to Avoid a Summertime Grilling Fail
This Fourth of July, before you light up the grill, it is important to remember safe food practices and the often overlooked simple steps that can make a big difference in preventing a food safety slip. Even seasoned chefs and self-proclaimed grill masters could use a refresher as the weather warms. Don't become a statistic – as one in six Americans experience foodborne illness every year. Your stomach and your guests will thank you later.
We recently had the opportunity to work with Food Network personality and cookbook author Aida Mollenkamp for client Foster Farms. Her food safety tips to avoid a grilling mishap are below. 
Never defrost meats on the counter.
Prepare two marinades: one for raw meat and one for basting.
Designate one colored cutting board for meat.
Use separate tongs for raw and cooked poultry.
Sanitize your kitchen and utensils.
Consider this a summer school refresher to help everyday grillers become the masters of the BBQ their aprons proclaim they are and stop a summer soiree fail before it starts.