Batkid saves Gotham and steals our hearts on social media
By Holly Crimmins
November 15th, 2013
It's a crisp Friday morning, and Gotham City is under attack by The Penguin, who has abducted our beloved city mascot Lou Seal, and The Riddler, who has taken possession of a downtown bank vault.  Fear is gripping the city with no one to turn to except for a single brave superhero – an adorable five-year-old boy in remission from leukemia named Miles. The illness has been present in his life since he was 20 months old and when the time came to make a wish for the Make-A-Wish Foundation, he wished for nothing other than being "Batkid."
Reach for the nearest Kleenex box and read on.
San Francisco has been transformed into Batman's hometown today, including a carefully planned adventure where Batkid rescues a damsel in distress from a cable car in Union Square, enjoys a burger with Batman at Burger Bar, stops The Riddler from hijacking a bank vault and rescues Lou Seal from AT&T Park. The adventure will end with Batkid receiving a key to San Francisco from Mayor Ed Lee and Police Chief Greg Suhr. More than 12,000 volunteers have been helping to ensure the event runs smoothly. With supporters flocking to the Bay Area and taking to social media to spread the word, this has been the most viral Make-A-Wish event to date.
It's hard not to admire the endearing qualities of Miles' wish and the community support that follows, but what exactly made this event so buzzworthy and such a huge success?
Emotional Connection
Just about everyone, save for maybe the Grinch, who knew the details of Miles' illness wanted to see his wish fulfilled. His story was more than enough to capture the hearts of San Francisco and beyond.
Simplicity
Prior to Batkid taking back Gotham City, Make-A-Wish asked Twitter-users to use #SFbatkid to show their support for his bravery and help spread the word – the results were genuine heart-felt tweets. Even President Barack Obama had to comment on the action.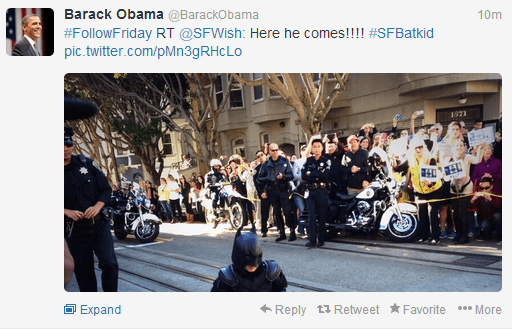 Facebook was another method of becoming connected to the event. Supporters posted on the Batkid Facebook page (Batkid Photo Project) with pictures and signs, making it easily assessable for all.
The San Francisco Chronicle created its own custom "Gotham City Chronicle," (see below) issuing 1,000 copies with headlines, "Batkid Saves City," "Caped crusader crushes crime" and "Batkid's secret revealed at last."
Community Support Turns Global
Residents of the Bay Area and throughout the country made the journey to the various event locations to be a part of Miles' wish and the event made it possible for these strangers to come together. Supporters from outside of the country showed their love for Batkid on social media channels and the return was an unforgettable experience that became headline news.
Stay tuned, Gotham. Batkid is saving the day, and we are all proud to play our small part in seeing his wish come true.