LinkedIn or Locked Out
By Heidi White
February 27th, 2014
A LinkedIn invitation rejection is making the rounds on social media following a senior executive's scathing response to a millennial job seeker's request for a "connection."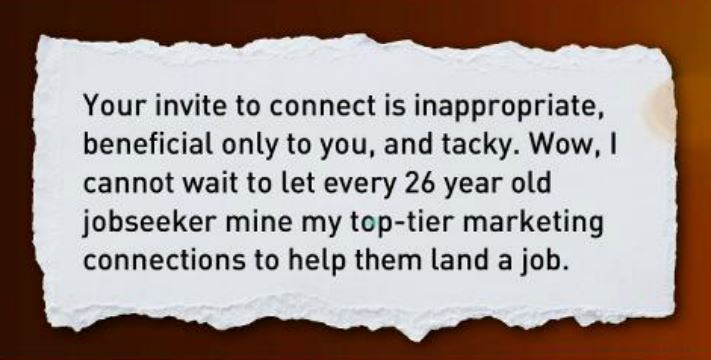 An adversarial response to a professional request has the potential to leave the proverbial egg on the face at best or turn into a professional crisis for the individual and/or their employer/company. In this case, the senior executive's valued network of "top-tier marketing connections" – and the world – is now privy to her personal rant. While aiming to put a younger professional in place, she may have left a lasting negative impression within her own network and beyond, potentially jeopardizing professional relationships, her credibility and her – or her company's – business. LinkedIn can be the holy grail of professional networking and business development but when it comes to communication, better safe than sorry. Take the high road to keep your professional reputation and your employer's intact. Many of the same crisis communications principles we espouse can be applied to companies dealing in the LinkedIn world – which, historically, has served as a professional platform. "Professional," being the operative word. Among them:
– Stick to the facts; do not obfuscate.
– Take the high road.
– Accept responsibility; avoid blame.
– Be as transparent as possible.
Organizations should regularly review their social media policy/guidelines with regard to how employees represent themselves online – including LinkedIn. A reply like this or a simple tweet has the potential to go south – and quick – as my colleague Nicho chronicled in his recent blog.